Jim Marta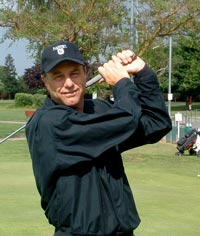 I have been a Golf Professional for over 40 years. My love for coaching and teaching the game has never gotten old. I cherish the joy and excitement of helping men, women and juniors have fun on the course.
My coaching philosophy has always been to give students just what they need and no more. The "one swing fits all" is not my approach to teaching. My approach is designed for each individual student. I take the physical limitations, body types, strength, balance, flexibility and the personality of each golfer into consideration. Instead of teaching you how to make the perfect golf swing, I will teach you how to play and enjoy this game called golf.
There are endless magazines articles, videos on YouTube, 24/7 internet golf instructions and your golf buddies to add to the complexity of something that last only 1-1/2 seconds. There are no mysteries to the golf swing, it has pretty much been figured out. I believe there is a way to teach the game so that anyone can succeed and have fun, regardless of time or athletic ability. I utilize a variety of teaching methods and teaching aids to improve your ball striking while having fun and enjoying the experience. I use the video V1 Coaching System that gives students a better understanding of what's going on with their swing and the one thing that is necessary to move to the next step. It is easy to see what is wrong with a swing, but to determine the cause and come up with a solution and game plan, takes an experienced Golf Professional and I want to be your Golf Professional.
I am confident that you will find my methods to be simple, enjoyable and easy to understand. An approach that will give you that consistency you are looking for. I am looking forward to helping you improve your game and guiding you through this wonderful journey of golf and the great memories that it provides.